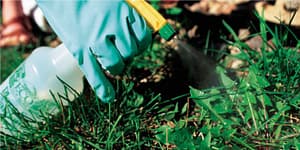 Weed killer, scientifically known as herbicide, is the well-known process which keeps the unwanted plants away from your elegantly nurtured garden. There are many types of weed-killers available in the market like chemical, organic, homemade killer etc. Some of them are "selective" that affects only some selective weed and leave the rest unharmed where the "total" herbicides are more likely to disturb all the plants present there within their reach. The best weed killers play an undeniable role in the enrichment of the greenery flourishing around you in perfectly organized way.
All the solutions come with some side effects that will make you question the authenticity of them.  Weed killers is not an exception. Many times, it is seen to leave unintentional effects on the other plants. They have negative outcomes on the environment as well. So it is always wise to have proper information before using any industrial weed killer or lawn spray that is said to kill grass. Weed killer guides will help you to choose the most appropriate weed or grass killer for your yard weed. These weed killer reviews mainly deals with features, composition and side effects of the herbicides and killer sprays.
Top-rated weed killer for garden
Compare-N-Save Concentrate Grass and Weed Killer
This is one of the most concentrated herbicide available in market. Concentrate Grass and Weed Killer has 41% glyphosate in it which is the active component of most of the herbicides. The normal weed killers has 1-2% of glyphosate. This concentrated product is very effective on board leaf weeds. This can be used as ready to use spray as well. This is likely to cover around 25000 square feet with 85 gallon container. This is considered to be very active as it shows real fast effects on the weeds.
Compare-N-save is claimed to start work within 2-4 days of applying in the field. It kills most of the weeds and greatly affects the growth. Most importantly, it works in the roots and kills them. Some herbicides tend to work on the overall plant and make them shade leafs but this takes longer time and it is possible for some weeds to survive in that condition also. So it is very important to kill weeds from the roots.
This is no pre-emergent herbicide that means it doesn't work on the seeds very effectively. If you are applying it in your garden to treat the already grown weeds, this would not stop new weeds from growing there. So there can be weeds again. This is a product that you have to deal with patience. Another thing to keep on mind is that sometimes concentrated solution tend to work slowly so it would be better to use dilute solution again and again.
Roundup Weed and Grass Killer Concentrate Plus
This is the most popular weed killer available in the market. Round up grass and weed killer happens to have a fastAct technology. That is the effects are seen within some hours. This is likely to start work within 12 hours. It contains glyphosate which is the main ingredient of this herbicide like most of the available one in the market. The amount of glyphosate is less and there are other active components like isopropylamine salt and few others.
There are many cases where you need to act instantly and reduce the weeds. In such cases we can't switch to any concentrated solution that will take days or need to get repeated for effective result. Round up grass and weed killer seems to be the smartest choice in such cases. It start working within 12 hours or so and kills all kind of weeds. There are reasons one should opt for this herbicide and instantaneous result seems to top the list.
Another thing is its rain proof nature. It doesn't get affected if it rains at least 30 min after it application on the ground. Many times it is seen that after spraying or spreading weed killers it starts to rain out of the  blue and all the efforts goes in vain but with 30 min rain proof technology you can easily leave it in its position and hope to work in perfectly fine manner even in rain.
Ortho GroundClear Vegetation Killer Concentrate
This is one of the best herbicide available in market nowadays. It not only demolishes the weeds but keeps them away for a long time. This is also a fast acting herbicides. The main ingredient used here glyphosate, isopropylamine salt along with imazapyr and few others. It works on almost all kind of weeds and unwanted plants. A small amount of solution can clean a large area and keeps the weeds away up to 1 year or so.
Ground clear vegetation killer works instantly after applying. It has fastact technology for better efficiency. It clears weed from sidewalks, patios, gravel paths, driveways, fence lines etc. You can see immediate result and no repetition is needed. It can applied with water in tank or in spray form. Both are effective in same way. The easy application makes it more popular and they have no serious side effects on the surrounding plants on the same bed or garden.
We can get 32 oz bottle but there are 1 and 2 gallons as well in same bottle form. The best time to apply this herbicide is when the weeds are growing actively. If the plants are taller than 6 feet then cut it and then spray the weed killer. It would be best if it is applied in a sunny day. The temperature is expected to be more than 60o F. Having 5% glyphosate it better not be used near desired plants.
Roundup Extended Control
It is one of the best weed killer from all aspect and buyers should have no complains considering it features. The main ingredient that is active in this herbicide is glyphosate with isopropylamine salt. This is a dilute solution of glyphosate and has 1% of it along with other components. This is one of the very few weed killers which serve two purposes together that is it kills the grown weeds and stops the other from growing up to 4 months.
This is one of the fastest product with really effective fastact technology. It starts working within 3 hours and difference are visible on the applied ground. This cleans driveways, patios, sidewalks, fences, gravel land very effectively. It kills a wide range of weeds which makes it more popular and customer friendly. Another very useful feature it has that is it becomes rain proof within 10 minutes. Sometimes, rain becomes an issue and there is no effect on the weeds even after using herbicide and a lot of efforts. Roundup extended control seem to solve this as it doesn't get affected by the rain.
Repetition becomes a problem in many cases. Sometimes it's because the first round couldn't effect the weeds properly or sometimes there are new weeds in the lawn. In both cases this weed killer happen to show a way out. The instant action kills the grown weeds and it also affects the seeds that could be grown within 4 months on the same ground. It reduces the usage of weed killers on the ground that has a positive effect on the soil along with the surrounding plants.
Benefits of weed killer
It is very important to know "what is the best weed killer?" if you are working on gardens. Weeds not only tamper the scenery of the garden but also occupy the place and other important elements that your plants need to grow. The best weed killer according to the research is organic weed killers. The basic aspects of using weed killer is discussed below.
Organic herbicides are safe for the plants and other wanted floras. It excludes the weeds and it allows the plants with more lights, ingredients and as well.
Best post-emergent herbicides act on the strong weeds immediately and clears the land for the betterment of the plants.
Removing the weeds will allow you space and gives you exposure for cultivating new crops. Multi cropping doesn't only good for finance but also enhances the quality of the land.
Best pre-emergent herbicide will increase soil fertility by not allowing weeds to grow at all that in tern benefits in the farming process and the quality also accelerates.
Any abundant area if needs to get completely clean for some purpose then earlier we use to opt for fuel to burn it out but that includes heavy usage of fuel. Herbicides happen to reduce the fuel usage.
The burning out process results in air pollution increasing the temperature of that particular area for the time being but using weed killers will decrease this issues although some chemicals has some negative effects on the soil and plants grown  there.
Tips On Buying Weed Killer
It is very important to have a clear view about the best weed killer for garden as it may lead to some disturbance in your farm. There are some basic factors that should be kept on mind considering which plant you are working on and what effect you expect. Some weed killers have fatal effects on the seeds which is not suitable for the whole process.
To answer "what is the best weed killer" you should consider the following facts to avoid fatal after effects.
Type and growth of the weed:
It is always necessary to know the type of the weeds you are going to deal with. There are different herbicides which serve different purposes. In some cases you can use the best pre-emergent herbicides when the growth of the weeds cannot be control easily but if there is already nurtured bed in your garden and weeds are interfering then switch to the best post-emergent herbicides available in the market.
You must know whether the weeds are seasonal or perennial to treat them accordingly.
The first thing is to determine how severe your weed problem is. There are different ways of using herbicides in your garden. If it's the beginning of the weeds or the problem is not that fatal you can simply spray the chemical but if there are dense weeds in your garden then it needs to get cleared from the root and you need intensive treatment.
It is very important to think about the plants adjacent to the weeds you are planning to treat. Most of the chemicals tend to harm the plants unintentionally and it leaves a permanent negative effect on the plants. So before you let your garden undergo any kind of herbicide do know the after effects on the other plants.
Further planning on the land:
Once you use herbicide over a land it may take some time to grow plants there and more importantly to have safe outcomes from them. So you need to plan and choose herbicide accordingly.
As you will be spraying or applying the products it would be better to know the side effects it has on you. There could be infection or allergies so choose something the suits you as well.
Final Verdict
Considering all the above facts it is necessary to choose the best weed killers for your garden. There are different products available in the market and there are various ways of application. It would be always wise to have basic information about them so that you do not harm the rest of the garden. Another thing to remember is the concentration of the solution.
The best way to treat weeds is to follow weed killer reviews carefully as it offers sensible solutions. So treat weeds properly and have a spring overflowing with color and essence!
See also: