If you have ever tried cutting a tree by yourself, then, you will understand the ecstatic and therapeutic effect it has on you. Trees are a great ambiance to backyard gardens. It feels so great and relaxing to be in a quiet area, smelling the freshly cut tress instead of being surrounded by undesirable noise and other adverse environmental conditions.
These trees are of different dimensions. Therefore, the kind of tree and the job (like either clearing a bushy backyard or felling trees for firewood) will determine what kind of saw to use.
You might also like: 5 Reviews of Best Pole Saw for Tree Pruning
However, if you have decided to try cutting or clearing trees yourself or probably employ external help, this article will shed light on the necessary things to look out for when buying the appropriate tool, to make it less burdensome.
Tips on Buying the Best Bow Saws for Cutting Trees
For every product under consideration, basic features to consider before purchasing a bow saw include durability, good customer review, affordable cost, warranty and preference.
However, considering the types of bow saw in the market today, there are certain basic requirements to look out for. Here are some of the important things to consider.
What will the bow saw be used for?
Bow saws are designed for cutting a variety of woods (e.g tree branches, shrubs), sawing logs to size, among others. It is best used when you have a few trees to cut. In addition, if you are interested in speed rather than a neat finish, then bow saw could be the best option. They are of different types with different capacities, depending on what purpose you need them for.
Where do you need to use the bow saw?
The major characteristics of a bow saw include the long and straight blade as well as a bow-shaped frame. The frame, having a hollow metal tends to make bow saws light and maneuverable. This makes it a very good tool for cutting trees even in a less than ideal situation. It can be used anywhere because no gas to find, engine to start or cable to run. They are usually designed to be light weight, thereby making them easy to grip and carry.
How good am I at cutting trees?
If you want to attempt using it yourself, then you need to have a prior knowledge about it or get an expert to supervise you. You could also get a professional to do the job for you using your tool.
How Safe is it?
Your safety is of utmost priority. You should make sure to check if it has a guard that fits over all the blade teeth because these cutting tools can be very dangerous. When cutting trees, there is a danger of the tree falling on you so you should always be aware of the nearest exit.
You need to know where the tree is going to fall and the factors that will influence that, how tall the tree is, the weight of the tree, how far it will reach on the ground so it doesn't smash something else. Most importantly make sure your foot is not at the point of falling so it doesn't jump off and replant itself on the ground.
What Features do I have to look out for?
The bow saw is characterized by a bow-shaped frame and a long straight blade. The hollow metal frame tends to make bow saws light and maneuverable; this makes it an excellent tool for cutting trees even in a less than ideal situation. It can be used anywhere because no gas to find, engine to start or cable to run. They are usually designed to be lightweight, thereby making them easy to grip and carry.
Blade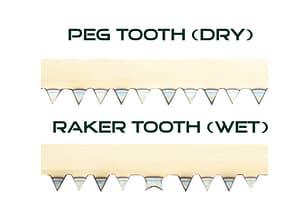 The blade in bow saws can be removed from the frame to cut through tree branches,epending on the technicality of the job to be done. There are two major types:
Peg tooth blade: This type of bow saw blade is designed to cut through both dry and hard wood without any hassle. The blade has a triangular shape and has a group 3 arrangement with the inclusion of a bigger gap amidst each group.
Raker tooth blade: The designs to cut through wet wood. The triangular-shaped slice through the wood and the 'raker' chip the wood out.
Size of blade
The user should look out for the size of the blade before purchase. The height of the user will determine what size is best. The size of the blade ranges between 17 inches and 30 inches or even longer. The thickness of the bow saw will determine the length of saw to use.
Handle
Bow saws have a closed pistol grip handle. With these, you can have a faster and more aggressive kind of cutting. The blade is supported by a large handle and the user's hand is protected from slipping when sawing quickly as well as injury, in case the end hits something suddenly.
Overview of Best 3 Bow Saws for Cutting Trees
This orange colored 21-Inch Steel Handle Bow Saw has a cam Lever Quick Change Blade Release. It is one of the best cutting tools for large branches. Cam Lever tensioning system keeps the blade tight when cutting, thereby ensuring the best performance.
It has a comfortable handle that allows you to cut in comfort, while the blade cuts through the branches without hassle. It can last through many heavy-duty cuttings because of the blade great design.Truper is popular among hand tools manufacturing business with 40 years of experience.
The length of the handle (21-inch) is great for large branches and has an extremely lightweight of 1.3 pounds, which reduces user fatigue. It also has Cam-lever tension system that helps keep the blade tight while cutting the tree for optimum performance. It is recommended to clean equipment after each use and oil it for years of hassle free experience. It is suitable for professionals and hobbyists and can be used in gardeners shed and garage. However, the blade may need to be sharpened often.
This particular brand specifically cuts through green wood. It has a durable design and construction that makes it tough enough to handle demanding applications. Surprisingly, this 30-inch bow saw is of high quality and remarkably has a lightweight. The tensioning mechanism located on the handle is designed for straight cutting.
This tool features an innovative tensioning mechanism that makes it great for high tension and straight cutting. It is made of lightweight and high quality steel tubing, which makes it easy to use and cut through different kinds of wood quickly.
This bow saw is ideal for clearing brush and cutting thick bushes. It features a fully hardened precision-ground steel blade and yet has a lightweight that makes it easy to grip and carry. In addition, it has a blade length of 21-inches and a replacement blade (7025) is available.
The major advantages of these features include; a hardened carbon steel blade with rust resistant coating, safety tension for added control, stays sharp after heavy use and a lightweight tubular steel frame design for easy grip. It also features a replacement blade and comes with a lifetime warranty.
Conclusion
In conclusion, the products reviewed above are all excellent in their respective categories, but have their strengths and weaknesses. If you want to purchase any, please ensure you study these features very well and check verified customer reviews to know which best suits your requirements.
This is to prevent misuse or any disastrous accidents. You should also put your safety into consideration by ensuring you have your safety boots, protective gloves and perhaps by telling someone where you are going and how long it will take you to finish – just in case you get stuck under a tree or otherwise hurt.